Database Administration Online Training Courses
Jobs for SQL Database Administrators are expected to grow 37 percent by 2016, which is faster than the average of all occupations combined. Computer specialist job opportunities are expected to increase as organizations continue to implement and integrate increasingly complex technologies. Employment in computer systems design and related services, one of the fastest growing industries in the current economy, is expected to continue to increase.
Major factors in the rising demand for SQL Database Managers and Database Administrators include: the demand for networking to facilitate the sharing of information, the expansion of client-server environments and the need for Database Programmers to use their knowledge and skills in a problem-solving capacity. SQL Database Administrators and database management system experts who are able to implement the latest technologies and apply them to meet the needs of businesses as they struggle to maintain a competitive advantage will also have a competitive edge.
There is growing demand for SQL Database Developers and Database Administrators to help corporations maximize their efficiency with available database administration technology. Expansion of electronic commerce (doing business on the internet) and the continuous need to incorporate databases that store critical information are fueling demand for Database Administrators familiar with the newest database technologies.
What do SQL Database Administrators do?
SQL Database Administrators work with SQL database management systems software and determine ways to organize and store data. They set up computer databases and test and coordinate changes to them. Since database administrators also may implement database design and system security, Database Administrators often plan and coordinate security measures.
Benefits of CBT Direct's Online SQL Database Training
CBT Direct boasts the most beneficial online certification and computer training on the market. With online IT training, you have the flexibility to study on your schedule, and with the speed and reliability of the internet, CBT Direct's database management system courses are accessible anywhere you have an internet connection. And what better way to get computer training than at home or at work on your own computer. Convenience finally costs less with CBT Direct – the most affordable online IT training solution today. CBT Direct is also a Microsoft Certified Partner.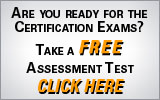 CBT Direct offers Microsoft®, Oracle and many more online certification training solutions for SQL Database education. With CBT Direct's online computer training, you'll receive high-level instruction for Microsoft MCITP DA and Oracle Associate certifications and more. You'll benefit from the accessibility, affordability and flexibility of CBT Direct's self-paced online IT training for all your training needs.
CBT Direct's online certification training courses use the latest computer training technologies available. The unique design of our SQL Database training courses incorporates a proven four-step learning process: presentation, demonstration, guidance and independent practice. This exceptional learning model ensures the greatest level of comprehension and retention to prepare you for your SQL database and database design certification exams.
CBT Direct also offers online mentoring for over 100 current major certification exams in SQL database design and database management systems, including Microsoft MCITP DD, for IT professionals and end-users alike. CBT Direct's in-house mentors have a minimum of 20 certifications each and are available 24/7*. This around-the-clock live coaching gives you the expert certification support you need to focus on your database design computer training and prepare for your own certification exam through live chat and email with highly acclaimed and certified IT professionals.
* Available for most courses.
With an IT job in SQL Database Management and SQL Database Design, such as a Data Analyst, Database Designer, Database Administrator or SQL Database Programmer, you will be able to apply your database design skills and increase your knowledge of the Information Technology industry, with the help of CBT Direct's SQL database online training!